Influence
Migrant Centre NI has contacted the Northern Ireland MPs to call on them to advocate for expedited and increased access to the EU Settlement Scheme for Ukrainian refugees. Please use this template to write as an organisation or individual to your MP.
Homes for Ukraine
To register with the official UK Government scheme follow this link: https://www.gov.uk/register-interest-homes-ukraine
If you would like to host a family but you have no links visit RESET and register in their matching scheme: https://www.homesforukraine.org.uk
We are aware that there are a number of Facebook groups and apps that unofficially match Ukrainian refugees with sponsors. Those services have no safeguards put in place therefore we would encourage you to contact RESET or the Red Cross.
Free Advice
If you know of any Ukrainian nationals needing immigration advice you can contact Migrant Centre NI for anyone based in NI, Ukraine Advice Project UK or one of the solicitors based in NI as announced by the Law Society of NI.
Advice Ukraine
https://advice-ukraine.co.uk
To request advice, please contact ukraine@freemovement.org.uk with some details of your circumstances and advice needed. The group will do their best to connect you to a lawyer.
Settled
ukrainefamilyscheme@settled.org.uk
Emails can be sent in English, Ukrainian, Russian or any other EU language.
Phoenix Law
028 90 328 383
sinead@phoenix-law.org
Granite Immigration
028 3026 2200
Sarah.henry@granitelegalservices.co.uk
Law Centre NI
028 9024 4401
Peter.Lavery@lawcentreni.org
RP Crawford & Co Solicitors
028 90381024
Bernadette@rpcrawfordsolicitors.com
Creighton Solicitors
028 9073 2461
sam@creightonsolicitors.co.uk
Tughans Solicitors
028 9055 3368
John.McGrath@tughans.com
Oracle Solicitors
020 3051 5060
km@oraclesolicitors.co.uk
McLaughlin & Co. Solicitors
028 9080 7000
mmclaughlin@mclaughlinsolicitors.com
SRM Legal
info@srmlegal.co.uk
Tel: 02871 368292
Immigration Advice Service
https://iasservices.org.uk/visa-concessions-for-ukrainians-in-the-uk/
Home Office guidance
The Home Office is announcing further measurers to allow family members of Ukrainian nationals in the UK and British nationals in Ukraine to apply for family visas. They will need to attend biometric appointments in Poland (Warsaw and Rzeszow pop-up visa centre), Romania or Moldova to get a decision which should be sped up without the need to pay for a premium service. A community sponsorship scheme has also been announced and we will post any official info available.
From 15/03/2022 those with biometric passports are able to apply online without the need to attend biometric appointments.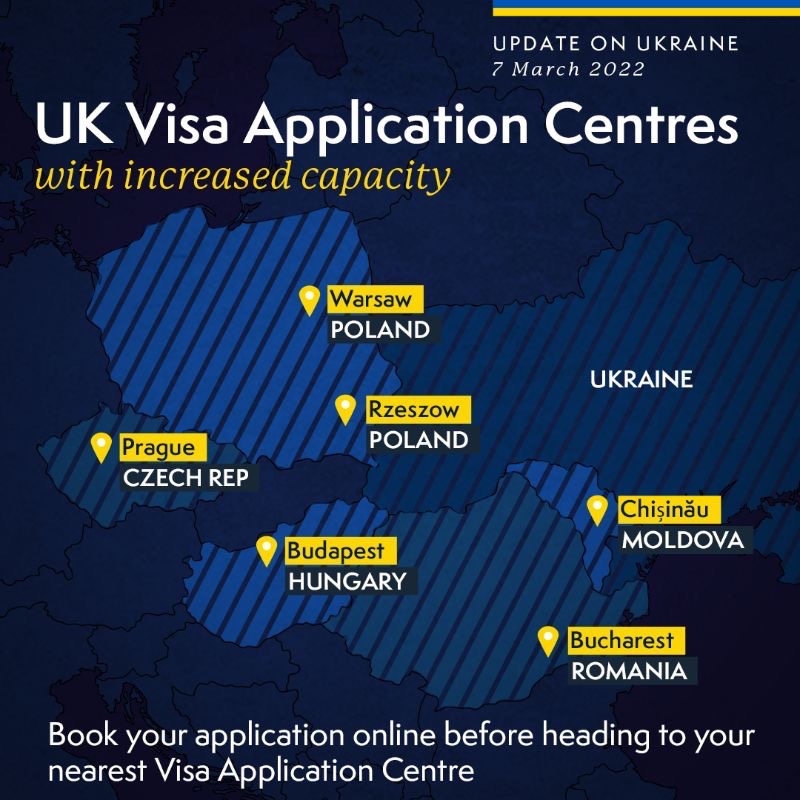 https://www.gov.uk/government/news/further-support-for-ukrainians-fleeing-russia-invasion
https://www.gov.uk/guidance/support-for-family-members-of-british-nationals-in-ukraine-and-ukrainian-nationals-in-ukraine-and-the-uk
Collections and other type of help 
Official collections in Poland
(see the photo below with QR codes for Polish Red Cross, UNICEF, Polish Humanitarian Action and others).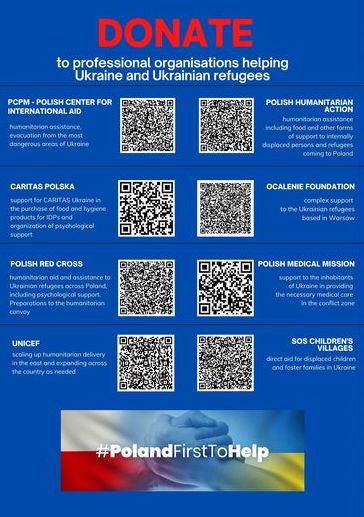 If you would like to help Ukrainian nationals fleeing their war-torn country here's a list of initiatives happening now across NI:
(list correct as of 3pm Wednesday 2nd March)
Collections of hygiene products, non-perishable food, first aid items, toiletries, nappies, dog/cat food, new blankets and sleeping bags, disposable tableware.
Most places do not accept clothes and shoes or other textiles! Please check before donating.
BELFAST:
City Church 12-24 University Ave, Belfast BT7 1GY
Fisherwick Presbyterian Church 2 Chlorine Gardens, Belfast BT9 5DJ
Smokey Deli 3 Grand Parade, Belfast BT5 5HG
Paraiso Tan 407-409 Woodstock Rd, Belfast BT6 9DQ
IASSISTNI 92 York Road, Belfast, BT15 3HF TEL: 07557885323
Breeze Fitness (open for donations 7am-9pm everyday), 243 Castlereagh Road, Belfast
BALLYMENA:
Rockfield Medical Centre
(UNTIL FIRDAY 4TH MARCH FROM 1-6PM)
73 Doury Road, BT43 6JD
Ballymena North Business & Recreation Centre,
120 Cushendall Road
DERRY~LONDONDERRY
One off collection on Thursday 3rd March from 6pm – 8pm
Migrant Centre NI office (UNISON building)
The Old Church
Clarendon Street
BT48 7ES
Mark H Durkan's office
Donations to be dropped off before noon on Wednesday 2nd March
141 Strand Road, Derry
EO'C Estate Agents
(leave donations in by Thursday 3rd March at 5pm)
43 Carlisle Road, Derry/Londonderry
CFC Interiors
collection boxes at the doors of Cookstown, Campsie and Abbeys stores and at the Killymoon Showroom. Collections to last for 2-3 weeks.
Polish shop BASIA in Strabane and Enniskillen
Mutt Hutt (open for donations on Saturday 12pm-2pm)
2 Hawe road, Bangor
Banbridge Old Town Hall
(open for donations on Wednesday 7pm-9pm)
1 Scarva St, Banbridge
Sollus Centre
Bready, Strabane (leave donations in by Thursday 3rd March)
CPS Property
6 Church St, Dungannon
Enviro Fire Water & Air Limited
First Floor Milltown House, Milltown Industrial Estate, Warrenpoint (leave donations in by Thursday 3rd March at 2pm)
Viking Lodge Spar
174 Old Glenarm Road, Larne (leave donations in by Thursday 3rd March)
Carrickfergus Child Contact Centre
13 West Street (leave donations in by Thurs 3rd March at 4pm)
Ballyclare Presbyterian Church Carpark
2 Foundry Lane, Ballyclare (leave donations in on Saturday 5th March between 10am-11am)
The Community Rescue Service Shop with collection points:
Coleraine Community Rescue Shop
Portstewart Clothing Company
Arcadia Cafe Portrush
Wednesday 10-4pm
Thursday 9-5pm
Newry Leisure Centre
(Saturday 5th & Sunday 6th from 1-5pm)
Lavender Fields Stable
11 Ballyroney Road
BT345NQ
Rathfriland
Floresco Flower Co.
34a Newcastle Street
Kilkeel
BT43 4AF
>>>This is not an exhaustive list and new initiatives are being announced every day.<<<
If you would like to donate money, please make sure you check that the collection is legitimate. Here is a list of official collections happening locally, and in Poland which has so far received around 2 milion Ukrainian refugees (mainly women, children and elderly people):
Cooltura Polish Community Centre in cooperation with Polish Consulate General in Belfast
HSBC Bank
40-20-55
Acc no 20035343
Ref: "Ukraine"
When preparing items for donations please bear in mind clothes are NOT accepted by most reception points and charities, blankets and sleeping bags should be new for sanitary purposes, the help mainly reaches those who have already left Ukraine and it might be difficult to send items across the border to help those fighting. Ukrainian NGOs are encouraging donations and the Bank of Ukraine has opened bank accounts to facilitate that.